News & Media
Monty is regularly interviewed for press and television, and his contribution to stage and film is celebrated at numerous events.
Daily Mail Event Magazine, January 2019
'The Bloodiest Bond Battle of All' - Adam Luck tells the story of the 007 theme tune. Click here or on the picture below to read the full article.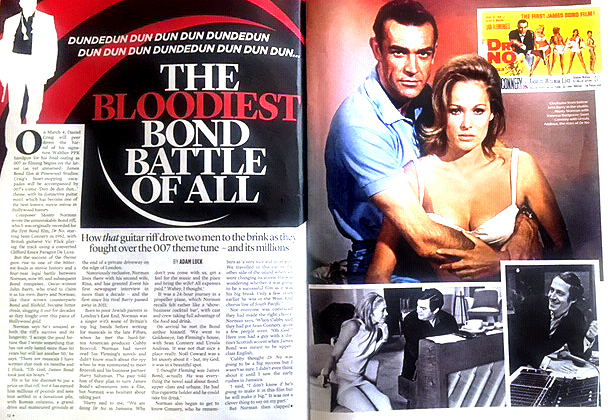 Monty's BAFTA Birthday
Monty turned 88 on April 4th 2016. To mark the occasion, Variety, the Children's Charity, along with Monty's family, threw a party at BAFTA.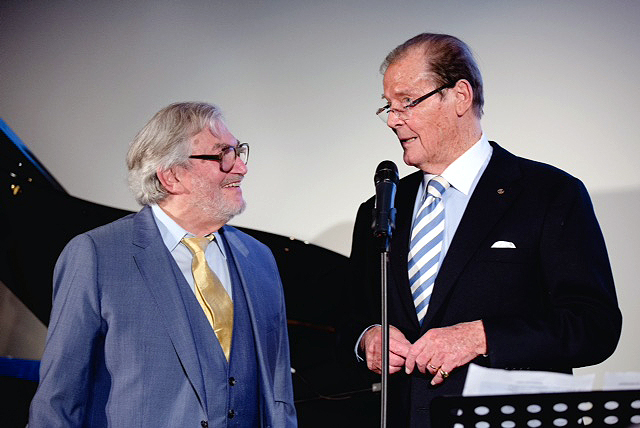 Photo: Andy Paradise
The event was organised not only to celebrate Monty's birthday but also to recognise his significant contribution to film and stage music in the UK. In addition, the celebrity guests, which included Sir Roger Moore, Barry Cryer, Jay Rayner, Tom O'Connor, Vanessa Feltz, Eunice Gayson and others, generously donated a significant amount towards Variety's work with sick, disabled and disadvantaged children throughout the UK.
One highlight of the evening was Sir Roger Moore's self-penned poem which he read as Monty was honoured a Celebrity Ambassador for Variety.
Relaxing somewhere underneath a mango tree,
Is a man most famous – to hear not to see,
For over fifty years he's played my theme
Though not just mine, there are five others on the team.

For when the white dot appears, and moves across the screen
The music kicks off, and the audience scream
Not with fear, but with excitement you see
As in to the gun barrel comes little old me.

His name is Norman
And he's certainly not a poor man
You see he composed a cute melody
For a killer quite deadly

Today he turns double-o eighty-eight
A youngster - by my standards at any rate
So join me in saluting our maestro and friend
And may the music never end

... Monty Norman
BBC The One Show 2012
Monty talks to Gyles Brandreth about how
The James Bond Theme
came about.
©BBC (Used with permission)
Interview 2012
Ahead of the 2012 release of
Skyfall
, Monty talks about writing the James Bond theme, how it happened and his inspiration.
©Bell Pottinger
How we met: Monty Norman and Barry Cryer.
©The Independent